Dear Zeta Kappa Alumni,
Before we get too far into the new year, the brothers of the Zeta Kappa Chapter would like to update you on the happenings of 2017. It was an eventful and entertaining year, and as always, new members have reshaped the dynamics of the house. All the while, we strove to maintain dedication to the core values of Sigma Nu and to the betterment of our brotherhood.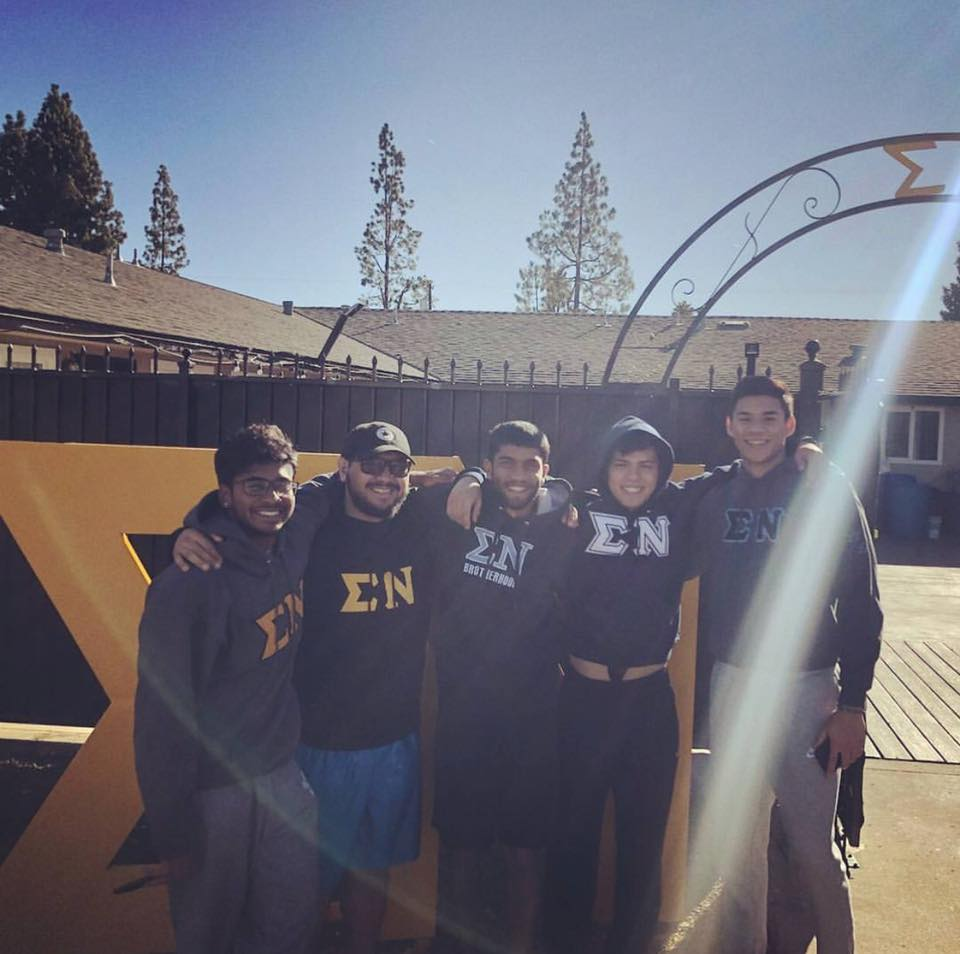 Gamma Beta, F'17 (Not Pictured: Ricardo Torres)
Recruiting The Future
Last Spring our chapter pinned the largest pledge class of any IFC Fraternity, eventually crossing over 9 new brothers. Ultimately, we retained 6 new members after our three Catalonian brothers – Marc, Jordi, and Marcal finished their time abroad in the United States and returned home to Barcelona.
This Fall we pinned a pledge class of 9—of whom 6 were deemed worthy of our brotherhood. This pledge class (Gamma Beta) included 2 members of the Smittcamp Family Honors College, and many with athletic abilities which will serve our chapter well in upcoming Philanthropies.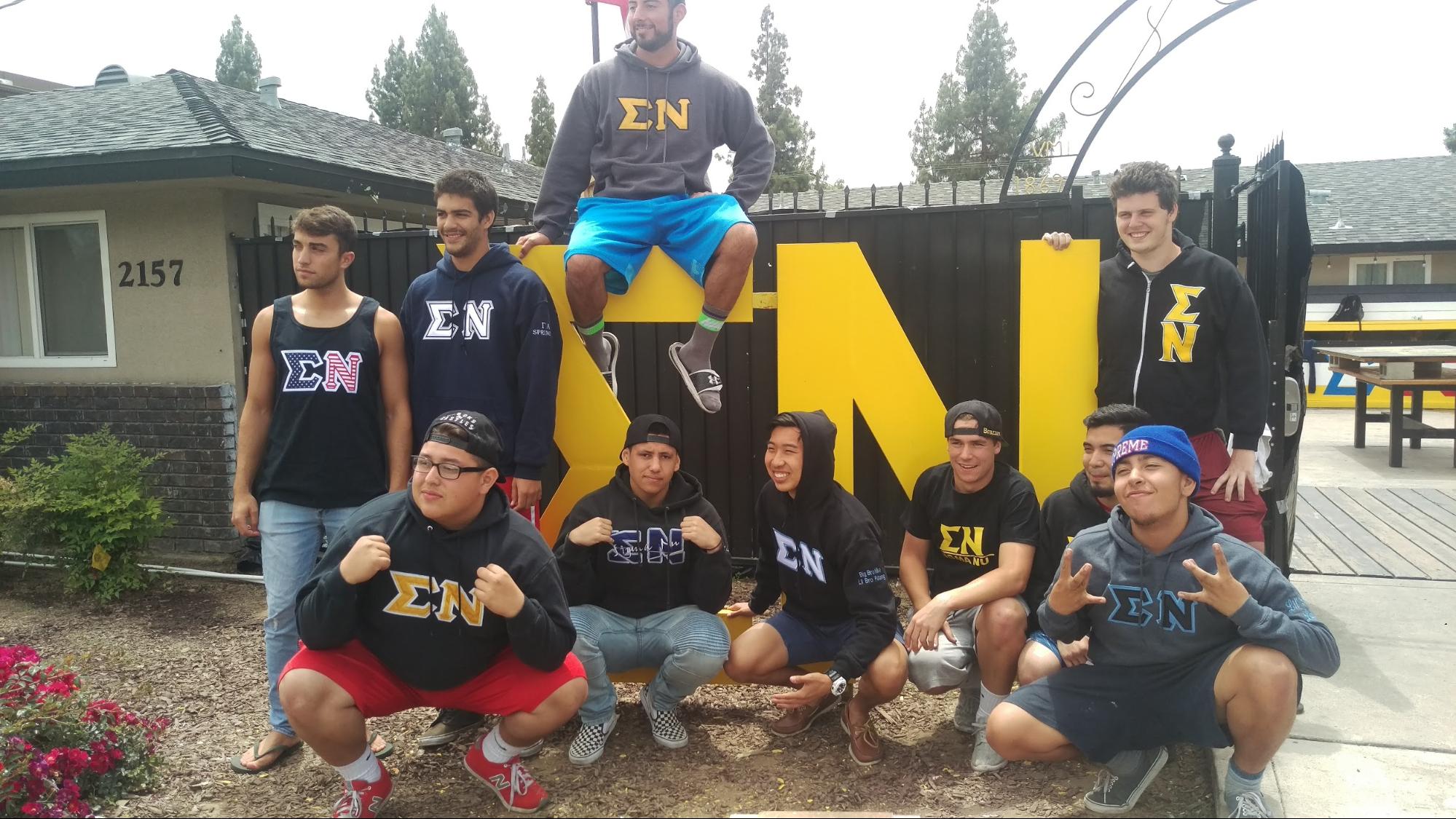 Gamma Alpha, S'17 with Pledge Marshal Alex Martinez (Top)
Our chapter now has three members of the Smittcamp Family Honors College, a Lyles College Honors student, the VP of Finance for ASI and three international students.
Chapter Highlights
Last Spring, our chapter chose a scenic area along the King's River in Sequoia National Park as our venue for House Retreat. This Fall, we rented a cabin near Shaver Lake. Both served well as venues for games, LEAD sessions, and as always, our "Rock and Rose" bottle pass served to foster the camaraderie which is so fundamentally important to the fraternal experience.
One of the key highlights of this year was our White Rose Formal last Spring, which was, as always, held in Las Vegas. On the final night of the trip, the chapter pooled together to rent a two-story penthouse suite in Caesars Palace, where we announced our various awards such as "Snake of the Year" and  "110% Active", along with naming our new Sweetheart—Amanda Ramirez of Kappa Kappa Gamma.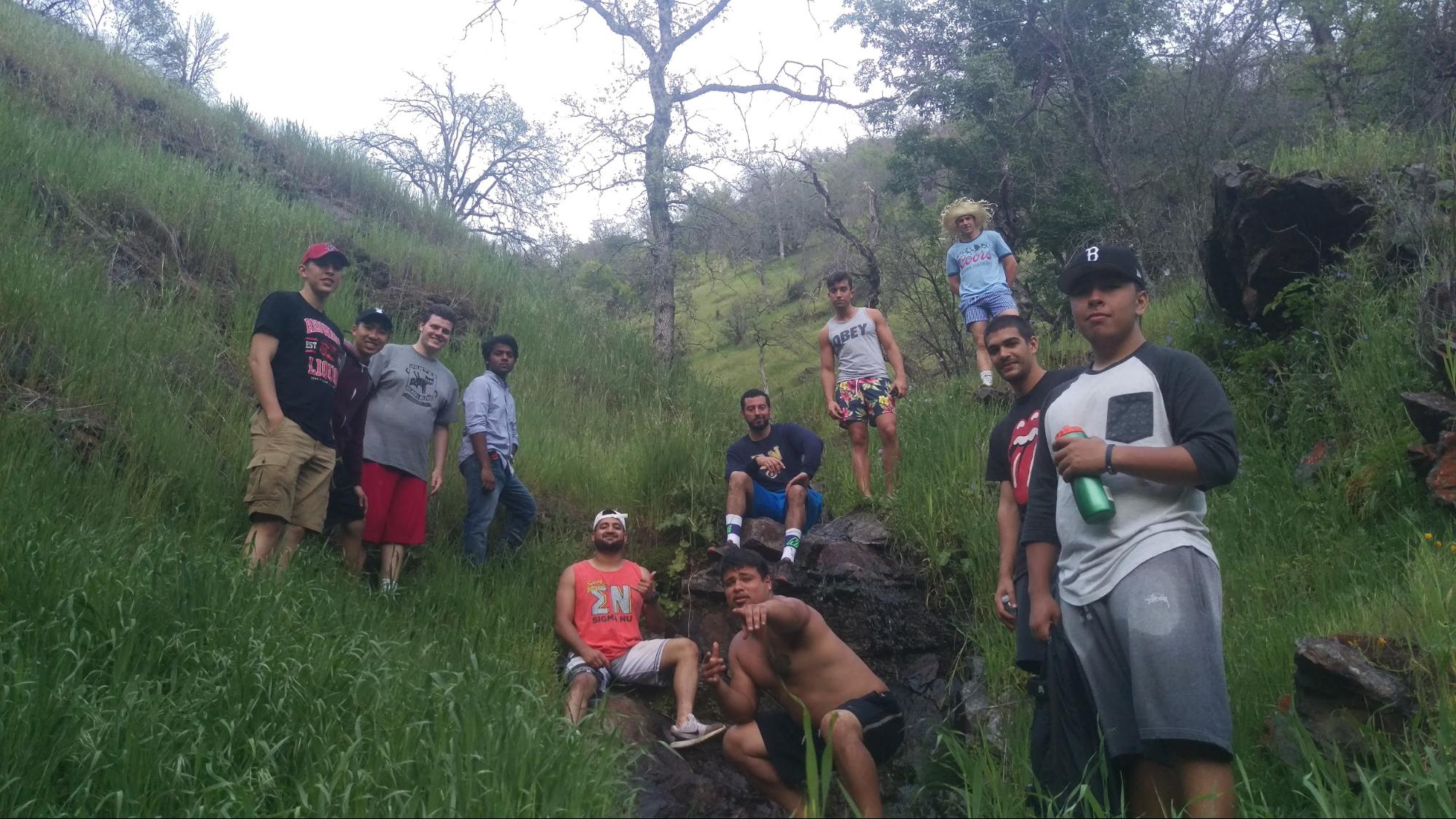 A small group of us on a hike during S'17 House Retreat
This fall we hosted our famous "Jungle" Social near the beginning of the semester, which, being highly anticipated, was a success. Last Spring we were the host of the "Hella Meat" social with Pi Kappa Alpha and Delta Sigma Phi. Throughout the year, we held several exchanges with sororities. Most recently, we held the "Kappa Kountry" exchange, as well as a boot camp-themed exchange with Phi Mu. We also participated in Serenades with all six of the Panhellenic Sororities, strengthening our social connections throughout the Greek system. To close out our Fall semester, we held a Semi-Formal Banquet at the Yosemite Gateway Inn located in Oakhurst, afterwards retiring to a series of chalets we rented at the Pines Resort in Bass Lake.
In our downtime throughout the year, we worked to improve the appearance of the chapter house. In addition to repainting some areas around the courtyard, we revitalized the Chapter Room by displaying more of our awards, composites, and other memorabilia. In the courtyard, we installed a new set of color-changing LED flood lights which help set the mood for our various social events, and also placed a barrier along our front gate to create privacy in our courtyard.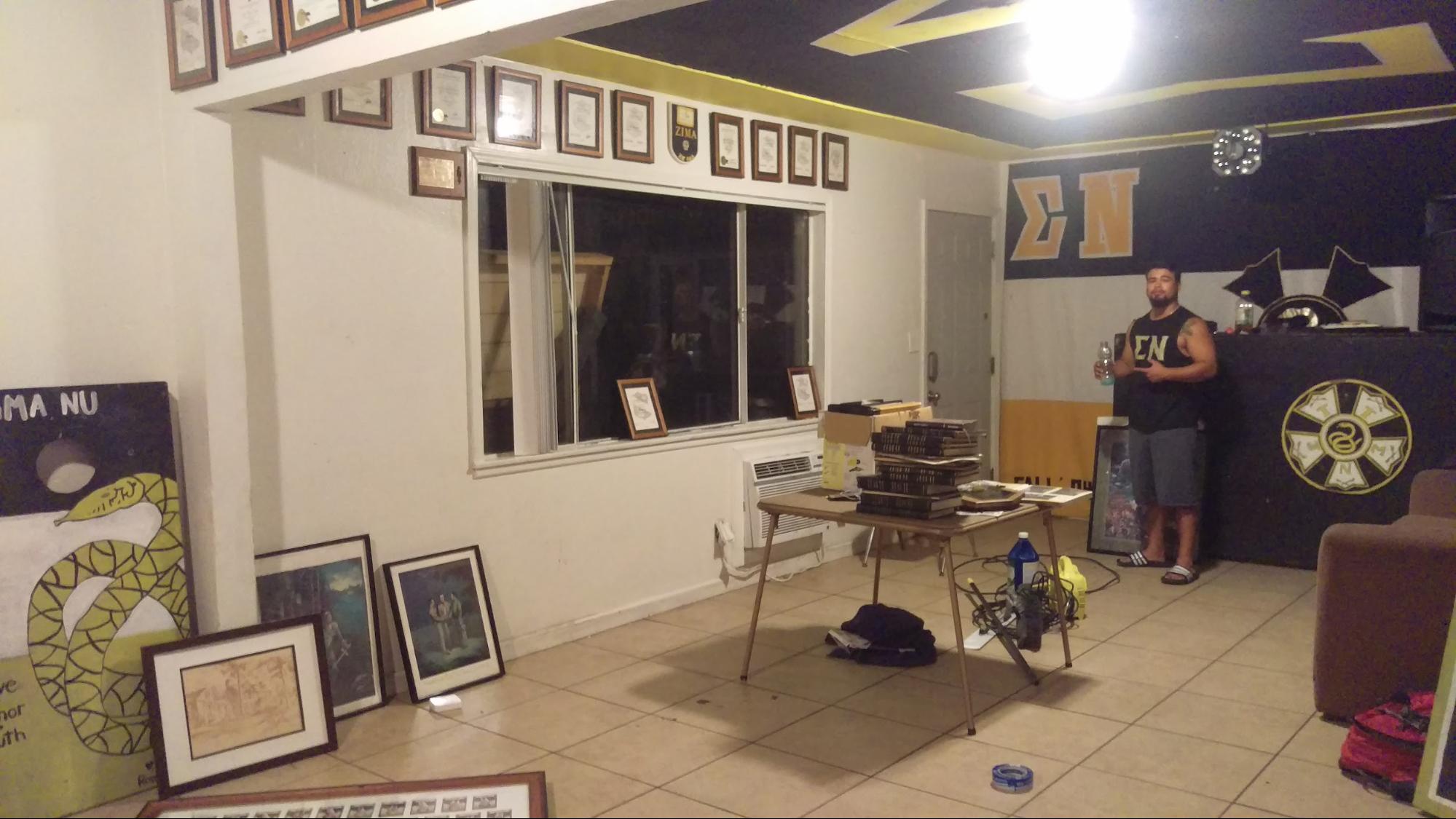 Recruitment Chair Anthony Venegas ZK 890 getting the Chapter Room ready for F'17 Rush
In addition to repainting some areas around the courtyard, we revitalized the Chapter Room by displaying more of our awards, composites, and other memorabilia.
Philanthropy
Our Philanthropy Chair, Brother Arvindha Vignesh ZK 887 designed a new Philanthropy this year, loosely based on a template created by our previous Philanthropy chair, Chandler Marquez ZK 878. "The Battle of the Row" as we decided to call the event, required each sorority to design a custom table top, perform a choreographed dance, compete in a Sigma Nu trivia contest, and participate in a Comedy Roast of the Zeta Kappa brothers who served as judges of the event.
The event was held to benefit the Susan G. Komen Breast Cancer Society, in light of the fact that the mother of a member of the Zeta Kappa Chapter is currently battling breast cancer.
Ultimately, we raised about $1,200 for the beneficiary, through sponsorships from DaVinci's Pizza, Sushi 'n' Pop, and Redwave Liquor, as well as through donations from sororities and through the sale of tee shirts themed after the event.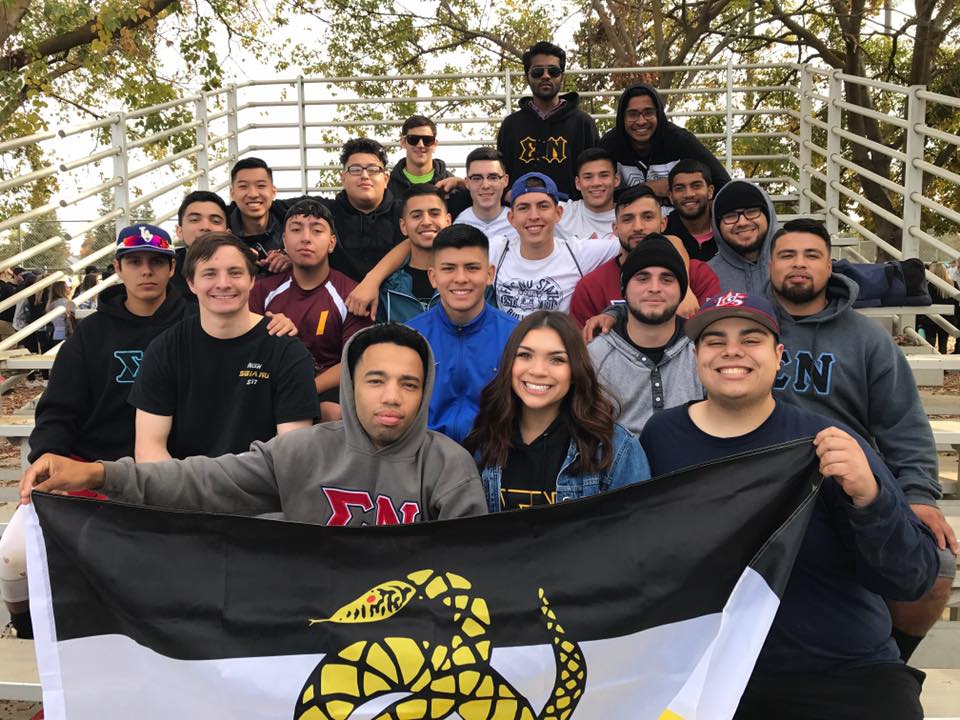 A Group of Zeta Kappas Posing with Sweetheart Amanda Ramirez at Kappa Softball
SAVE THE DATE

Rush Week
February 7 – 10
5:00 – 9:00 PM

Alumni Welcome
Every Night

Call Nick at 209.829.9339
Outstanding Members
This year, the Lelan Douglas Bowers Scholarship was divided up and awarded to brothers Nicholas Tregembo ZK 884, Aaron Tesei ZK 875, and Bernardo Pulido ZK 889. Details regarding the achievements which merited these awards can be found here. 
Our chapter now has three members of the Smittcamp Family Honors College: Nicholas Tregembo, and newly initiated brothers Robert Ortega and Alexander Valdez who crossed over this Fall. Furthermore, our Eminent Commander Aaron Tesei ZK 875 is a member of the honors program within the Lyles College of Engineering.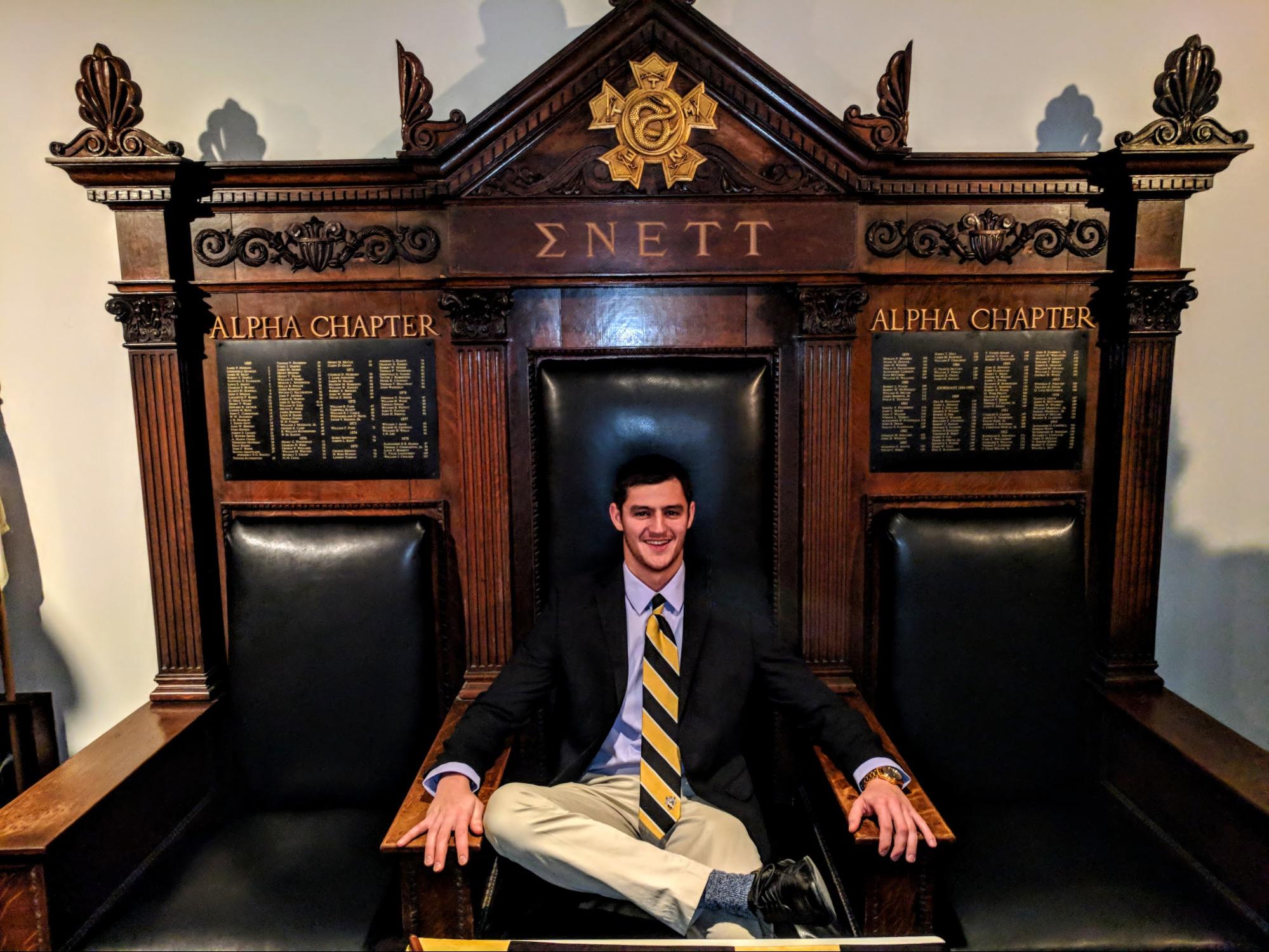 Eminent Commander Aaron Tesei ZK 875 sitting in the Commander's Chair at HQ During College of Chapters
Brother Cameran Patterson ZK 879 was the IFC Recruitment Chairman during the Spring '17 semester, and is currently the Vice President of Finance for ASI at Fresno State.
Currently our house boasts three international students: Arvindha Vignesh ZK 887, born in India and raised in Doha, Qatar, and newly initiated brothers Carlin Perera and Pasan Liyanage, both hailing from Sri Lanka, though Carlin was born in Naples, Italy.
Lastly, I would like to acknowledge brother Chandler Marquez ZK 878 who took time off from school and work last Spring to undergo the painful, yet rewarding, process of donating bone marrow.
We Need Your Help!
The Chapter would like to thank our Alumni board, as well as any other Alumni who help support us and keep the Zeta Kappa Chapter running smoothly. Thank you to those who donated to the Lelan Douglas Bowers Scholarship Endowment this year—it is a great incentive for each of us to achieve more academically, personally, and in our community. Special thanks to our Alumni Advisor, George Grim, who has been highly involved this past semester, and has been crucial to keeping the chapter on track.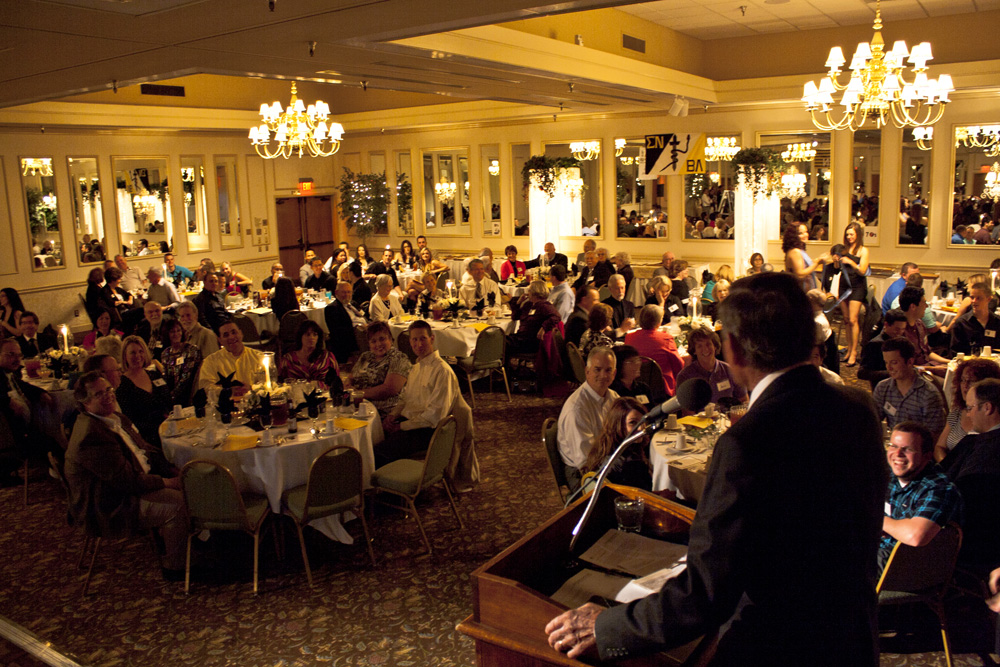 Bobby Fries speaking at the ZK 60th Anniversary
In general, the chapter would love to see more of our alumni, especially during recruitment, so we will make sure to distribute our schedule to you once it is finalized early this Spring. And of course, if you know of anyone who plans to attend Fresno State or is thinking of going Greek, please send them our way!
All in all, we're all looking forward to another year of opportunity, personal growth, good times, and most of all, Brotherhood.
To Believe in the Life of Love,
To Walk in the Way of Honor,
To Serve in the Light of Truth.
Fraternally,
Nicholas Tregembo ZK 884
Alumni Relations, Risk Reduction and House Manager
Sigma Nu Fraternity, Zeta Kappa Chapter #125
California State University, Fresno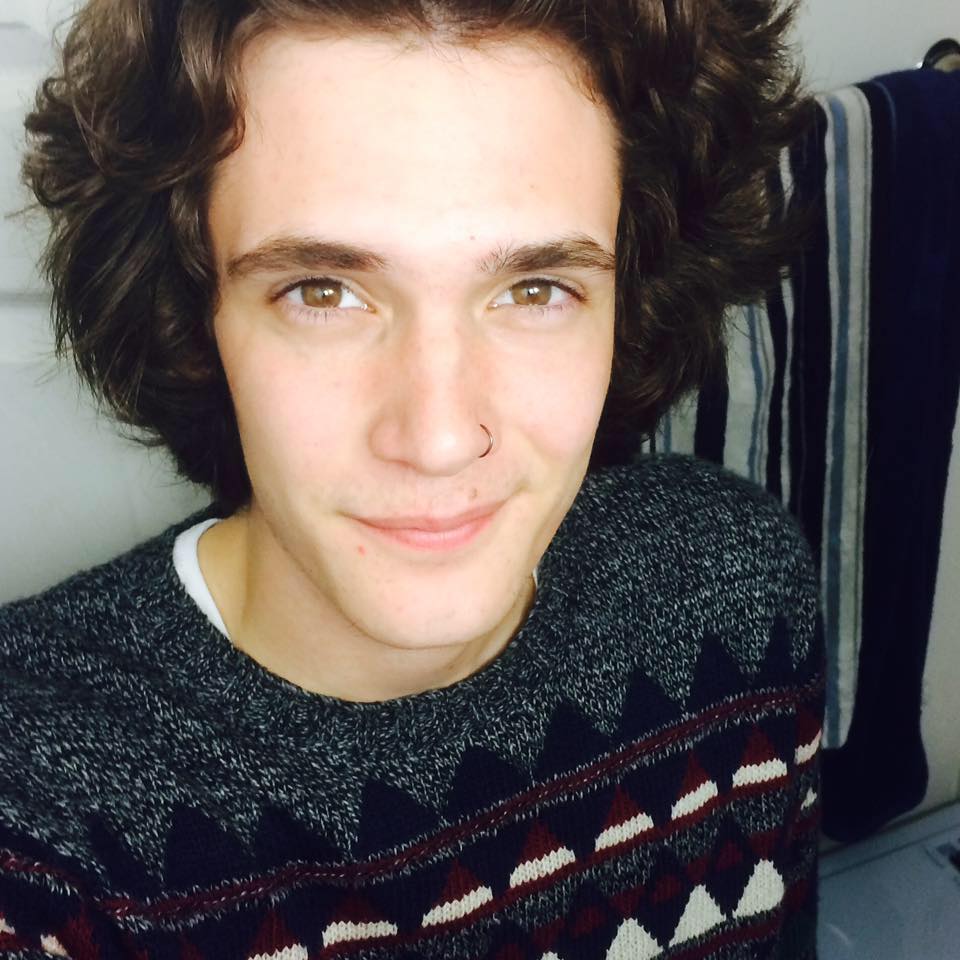 Nicholas Tregembo, Alumni Relations Chairman