The Lee Bowers Scholarship Endowment
Extending the Helping Hand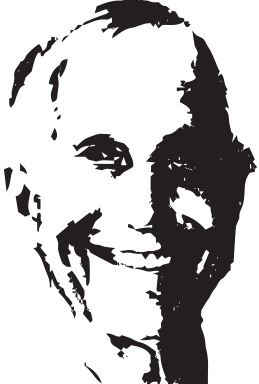 Do you remember what it was like in college?
Broke, eating ramen and chipwiches? It was tough, but we made it through by helping each other out.
Did you know?
Over 90% of Fresno State students have need for financial aid—only 13% have their financial need fully met
Over 50% of Fresno State students are taking out loans
The average indebtedness of Fresno State graduates is $18,000
*statistics gathered from CollegeData for Fresno State
Today it's harder than ever for Fresno State students to make it financially. Not to mention fraternity members, who have to pay their dues on top of everything else. That's why the ZK Alumni Chapter created the Lelan Douglas Bowers Scholarship Endowment.
In Honor and Memoriam
As a tribute to our founding fathers, from ΜΑΔ to ZK, and all our brothers in the Chapter Eternal, the Lee Bowers Fund was created to:
1) Support Collegiate ZK Brothers
2) Reward Academic Achievement
3) Encourage Chapter Leadership
To the departed ΜΑΔMEN and Sigma Nu brothers near and dear to our hearts.
Endowing Our Future
Established in 2008 with seed money of $1,000, the fund is designed to provide annual scholarships using only proceeds from interest, thus leaving the principal intact and providing a financial foundation for the long-term future of Zeta Kappa.

The fund is held with the Sigma Nu Educational Foundation, meaning your contributions are tax-deductible.
Through contributions from brothers and friends, through 2016 the Lee Bowers Fund has exceeded $12,000 and provided scholarships totaling $2,250 ($500 in 2014, $750 in 2015, and $1,000 in 2016).
This is a great accomplishment, but what if we could provide scholarships of $1,000 each and every year? Or $5,000?
It's possible.
Supporting Collegiate Brothers
Imagine how much a $1,000 scholarship would have helped you in college. How much more could you have focused on your schoolwork and leadership in the fraternity? If you're like most of our brothers it would have helped a hell of a lot. You can help make this possible, each and every year.
Building A Sigma Nu Legacy At Fresno State
These scholarships don't just help the individual brothers they're awarded to. They help our chapter to be a better fraternity.
Scholarships encourage our members to be better students, leaders, brothers and men.
By giving to the Lee Bowers Fund, you'll help a deserving brother in our fraternity pay for his dues, books, living expenses and the costs of going to college. That could mean five fewer hours per week at his job that he could devote to his studies or leadership in the chapter.
The Lifeblood of Our Fraternity
The scholarship also creates a boost for recruitment. If you're a freshman choosing between two fraternities, are you going to choose the one where you can earn a scholarship…or the one without? Other factors being equal, it's an easy decision.
Why Give to ZK?
There are many scholarship funds you can support, why give to the Lee Bowers Fund?
Because these guys aren't just students. They're Fresno State Sigma Nu brothers. They're trying to make their grades, work part time jobs, hold officer positions and run a fraternity chapter. Which, by the way, this is the hardest day and age in fraternity history to accomplish.
It's Up To Us
And guess what? No one else is going to donate to "a bunch of frat guys." You know as well as anyone, most people think fraternity is all parties, booze and bad behavior.
We must build the financial future for our fraternity.
But you were in it. You know how tough it is to run a fraternity chapter:
the time, the commitment, the responsibility,
paying dues and trying to keep the house up to par. These guys need the help more than ever.
So it's up to us: alumni brothers, our spouses, and friends of Zeta Kappa. Because no one else is going to support these young men, and we must build a financial future for our fraternity.
Best of all your contribution isn't just a one-time shot. It will help to grow the principal fund that will continue supporting our fraternity in perpetuity. Where else can your money last forever?
The Campaign For Zeta Kappa
Our goal is to pledge 100 alumni brothers to just $10 per month. This would grow the endowment by $12,000 per year. Here's what the next five years could look like in scholarship awards:
Our Goal: 100 alumni brothers contributing $10 per month
2018: $1000
2019: $1750
2020: $2500
2021: $3250
2022: $4000
By the year 2022 we would be able to provide four $1,000 scholarships to students and leaders in the ZK chapter. And who's to say we can't exceed that? There are more than enough alumni brothers out there, it's just a matter of each making his own contribution.
We never had that kind of support, but you can help us change that. Together we can make it a little easier for these guys, to make it through college, and to make a difference in our fraternity.
Will You Contribute To The Lee Bowers Fund?
Sign-up for a monthly pledge. Your credit card will be automatically charged, and you'll receive a tax deduction at the end of the year. Every time you see that charge you'll know you are helping grow and preserve the legacy of Sigma Nu at Fresno State.
Most importantly, you'll help one or more of our brothers make it through college, and graduate a proud Sigma Nu. Will you make a contribution?
I'm On The Fence
Just like when you were asked to join Sigma Nu. We can help.
It's too expensive.
You can give at whatever level you're comfortable, starting at $5 per month.
It's a pain.
It's easy, just a few clicks. Take three minutes right now to set up your recurring payment plan and never think about it again, except to change your plan or cancel.
I'd rather just make a one-time donation.
If you prefer to make a one-time donation you can do that also.
I'll be locked in.
You can cancel at any time, but why would you?
I'm worried about using my credit/debit card online.
Stripe is a trusted, reputable and highly secure credit card processor. Check out their security documentation here.
My spouse or significant other isn't too keen on the idea.
We suggest explaining where the money is going and why it's important.